This post was originally published on ched.gov.ph
Commission on Higher Education (CHED) Commissioner Ronald L. Adamat was awarded with the "Mahatma MK Gandhi Prize for Non-Violent Peace" on March 27, 2022 in an online ceremony attended by peace advocates and renowned personalities from all over the world.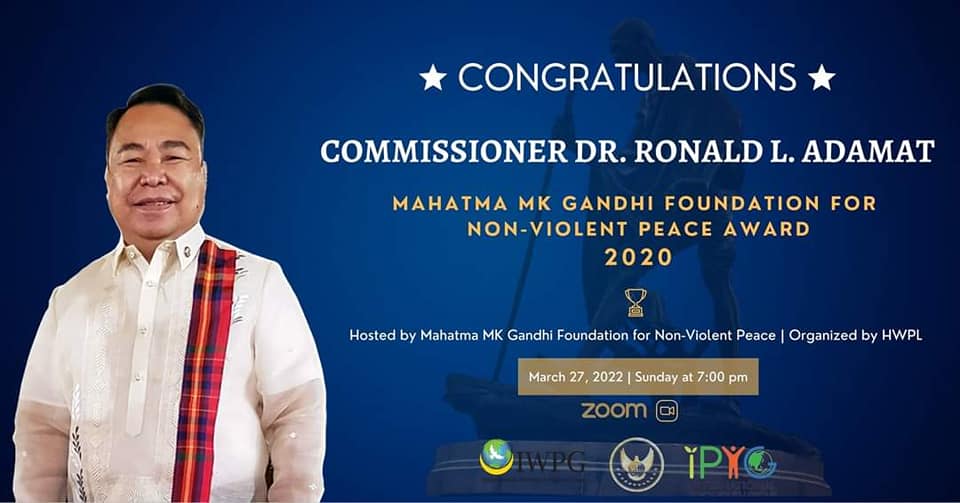 The peace prize was supposed to have been awarded in 2020 but was delayed because of the pandemic.
The award was conferred on Adamat by Dr. Prasana Kumar Patsani, Chairman of Mahatma M.K. Gandhi Foundation for Nonviolent Peace and Secretary-General Dr. Jyoti Mohapatra.
In his acceptance speech, Adamat said that Mahatma Gandhi's "be the change you wish to see in the world" became the inspiration and guiding light in his advocacy to bring peace to the Filipino people.
Adamat also says that he is honored to accept the Mahatma MK Gandhi Prize for Non-Violent Peace Award and he will use it to challenge the Filipino youth to never forget the value of peace in nation-building.
CHED Chairman Popoy De Vera also expressed his gratitude for the efforts of Adamat in advocating for peace in higher education.
"I thank you, Comm. Ronald for your efforts and commitment in advocating for peace and excellence in the field of education. More than an award that is given to you as an advocate of peace, this award is also an award given to the Commission on Higher Education and to the Philippines as you join the prestigious list of dignitaries that have been recognized for pushing and continuing their quest for peace all over the world," De Vera said.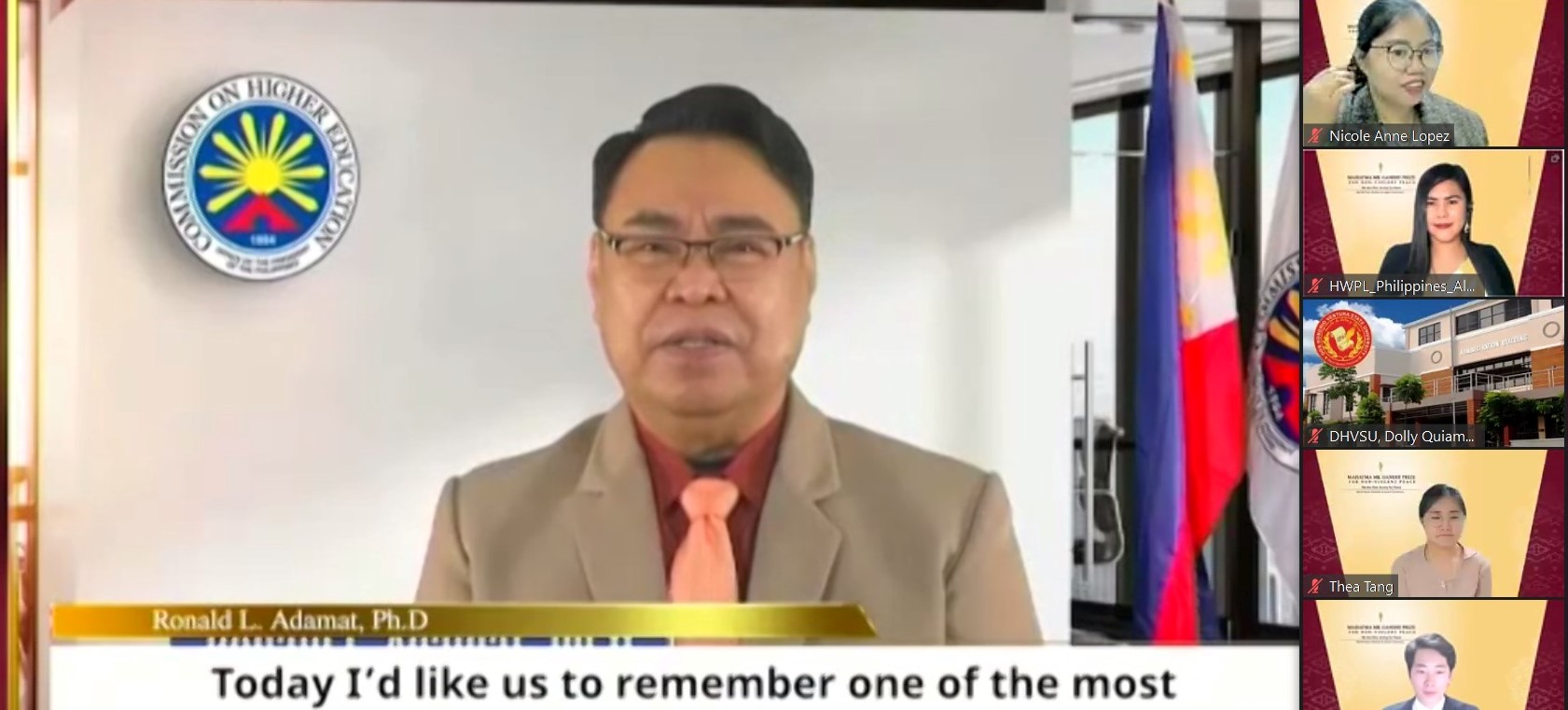 In receiving the prestigious award, Adamat feels proud because he was chosen among 258 nominees from around the world and is the first Filipino recipient of the said peace prize.
His name is now among those few great men and women who were conferred the peace prize like Jimmy Carter (USA), Margaret Thatcher (Britain), Nelson Mandela (South Africa), Mikhail Gorbachev (USSR), S.D. Sharma (India), K.R. Naray anan (India), R Venkataraman Sheikh Hasina (Bangladesh), former United Nations Secretaries-General Javier Perez de Cuellar, Boutros Boutros Ghali, Kurt Waldheim, former United Nations Undersecretary-General Joseph Verner Reed, Chairman Man Hee Lee (HWPL), Chairwoman Nam Hee Kim of the International Women's Peace Group (IWPG), Dr. Young Seek Choue, and Alexander Kim who all believe that non-violent peace throughout the world can be achieved.
Adamat admits that being a member of the Indigenous Peoples belonging to the Tedurays of Upi, Maguindanao, he has personally seen his people suffer as a result of greed, politics, and ideology.
"We suffered injustice. We suffered from violence. We were discriminated. We were a people who were without voice, and we wanted change," Adamat laments.
According to Adamat, he pursued his Ph.D. in Peace and Development to show his deepest honor and respect for Mahatma Gandhi.
As CHED Commissioner, he took the initiative to integrate into the higher education curricula both Peace Studies and Indigenous Peoples Studies in 2019 that mandated state universities and colleges, local universities and colleges, including private higher education institutions to include in their respective curricula these very important subjects.
In his desire to promote the culture of peace and non-violence, Adamat established the Volunteer Individuals for Peace, Inc. (VIP), a non-government organization dedicated to peace works.
He also composed its theme song "We Are One," a song that encapsulates the significance and relevance of living together as one humanity, later adopted by HWPL from the Philippines and now performed across the globe in different languages.
Adamat discloses that he is gathering support from Filipino peace advocates to convince the Duterte government to declare January 24 as National Peace Day and at the same time he is promoting peace projects such as the establishment of peace monuments inside university and college campuses nationwide.
He said that it is high time now that peoples and governments around the globe should work together to bring peace to the world through education.
Adamat has also composed a new song entitled "Education Builds The Future," where it talks about the role of education in bringing change.
The song describes education to be everyone's concern, "that all peoples should acquire as a weapon to change the world, for us all to live in peace with prosperity."
"Being an educator, I am thankful of this award and I feel so much inspired to pour out my energy, resources, time, and talent toward peace-building," Adamat claims.
Adamat concludes that the Mahatma MK Gandhi Prize for Non-Violent Peace Award shall remind him of his responsibility to promote non-violent peace through education, and that never in his wildest dream that one day an award named after the man he admired so much will be conferred on him. (AAAnosa)