This post was originally published on ched.gov.ph
Commission on Higher Education (CHED) Chairman Popoy De Vera was adopted as son of the Province of Kalinga and was dubbed as "Alingag" which means "to re-echo," in recognition of his works and contributions in the Philippine higher education.
The adoption of De Vera, through SP Resolution No. 2022-046, was recently conferred by Provincial Governor Ferdinand B. Tubban in the presence of members of the Sangguniang Panlalawigan, Kalinga State University (KSU) President Eduardo T. Bagtang and other guests at KSU.
De Vera's visit in Kalinga is part of his Padyak: Claiming Victory for Philippine Higher Education, wherein he travels across regions to report on the achievements of the Duterte administration on higher education. Part of the Padyak is to meet the Tertiary Education Subsidy (TES) grantees under Republic Act (RA) 10931 or the Free Higher Education (FHE) law and listen to their success stories.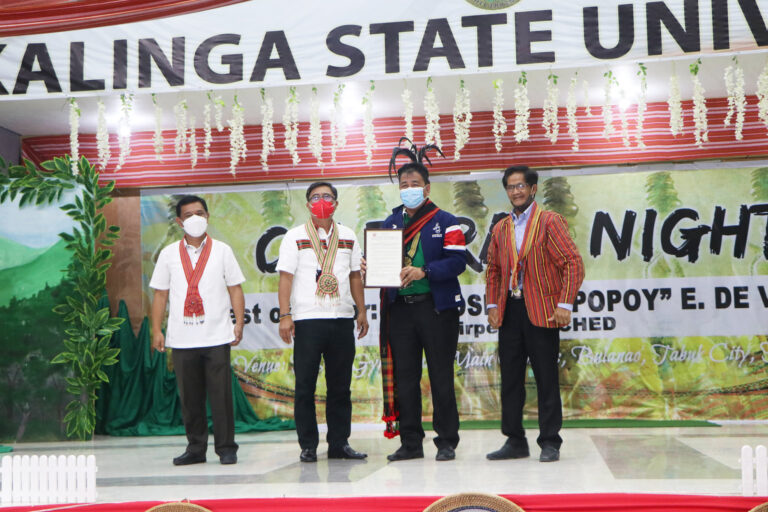 *Event photo credits: KSU*
To date, there are 40,195 student-beneficiaries of the FHE law in the Cordillera Administrative Region (CAR), including 4,177 students receiving the TES. In Kalinga province, 6,782 students no longer pay tuition and miscellaneous fees and 829 students get the P40,000-P60,000 TES per year in public and private colleges and universities.
"I am deeply honored and humbled by the recognition given to me by the Province of Kalinga through Governor Tubban. It is a recognition that makes me now commit to continue implementing RA 10931 and to look for ways so more students in Kalinga can go to college. I also commit to assist KSU in its efforts to provide access to quality education to the communities they serve," De Vera said.
According to the resolution, being an adopted son of Kalinga is a time-honored tradition of the province and in consonance with customary indigenous ethnic practices and personages and is conferred to individuals who have singularly endeared themselves and contributed outstanding services to the people.
The resolution further stated that "De Vera serves as an academician whose technical expertise helped policy-makers for the passage of legislative measures in educational development and other public services."
Sons and daughters of the province are granted certain privileges including protection under the auspices of the Kalinga Peace Pact institution of the Bodong Justice System through the Pagta, the law of the Bodong.