This post was originally published on pna.gov.ph
MANILA – Malacañang has renewed its call on Congress to heed the Duterte administration's request for the immediate passage of the Freedom of Information (FOI) Bill.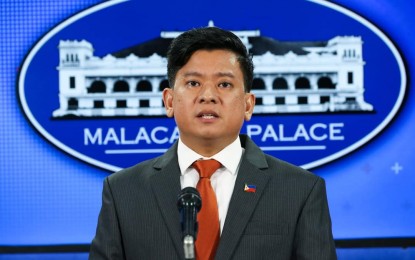 Acting Deputy Presidential Spokesperson and Presidential Communications Operations Office Undersecretary Michel Kristian Ablan (File photo)
Acting Deputy Presidential Spokesperson and Communications Undersecretary Michel Kristian Ablan appealed anew, as he admitted the "most challenging" part of implementing FOI is "convincing legislators to pass the [proposed] FOI law."
"Pass the FOI law now," Ablan, who concurrently serves as FOI program director, said in his "Just So You Know" vlog uploaded on the FOI Philippines' official Facebook page, when asked about his message to Congress.
Quizzed as to why the long-overdue FOI bill needs to be passed into law, Ablan said the measure would promote transparency in government transactions and help gain public trust.
"Transparency has to be sustained. Transparency is important in building trust and trust promotes efficiency in government," Ablan said.
President Rodrigo Duterte's signing of Executive Order (EO) 2 on July 23, 2016 gives the public access to official documents and transactions in all state departments and offices under the Executive Branch.
Under EO 2, a Filipino citizen can request any information about government transactions and operations by presenting proof of education to the concerned state office or lodging queries online through the official website www.foi.gov.ph.
An FOI request can be made before all government offices under the Executive Branch, including government-owned or -controlled corporations (GOCCs), and state universities and colleges (SUCs).
Requesting parties can have access to information, official records, public records, and documents and papers on official acts, transactions, or decisions, as well as government research data used as the basis for policy development.
The landmark policy mandates the Presidential Communications Operations Office as the designated lead government agency to operationalize the FOI program that aims to promote public transparency, accountability, and citizen participation.
Ablan said the "best thing" he learned as FOI program director is that government offices under the Executive Department are willing to share information about their transactions involving public interest.
"FOI was able to open the doors and windows of government offices to the Filipino people," he said.
Considering that the proposed measure remains pending before Congress, Ablan reminded the voters to make sure that their preferred candidates for the upcoming elections "will support and pass the FOI bill."
The FOI bill seeks to expand the scope of open governance by directing agencies to disclose information on projects and other matters that involve public interest.
The bill's salient features include the crafting of a mechanism that will refer and transfer requests to appropriate agencies, as well as the creation of a records management system.
The bill mandates the government agencies to respond to an FOI request within 15 days from the receipt thereof.
An oversight body or the FOI Commission will also be established, along with the creation of a central appeals and review committee for all FOI compliant agencies in the three major branches of the government –Executive, Legislative, and Judiciary. (PNA)